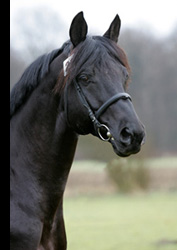 Kasparow
Black Trakehner Stallion
Born 04-17-1995
Sixtus out of Elite St. Kandra ( Kostolany )
Approved January 2001 in Alsfeld Germany.
Please allow me to introduce to you:
Kasparow [Pronounced as: Kas-paa-rof]
a wonderful stallion who, at the moment, stands at stud in Holland. Here in Zevenhuizen he leads an "as normal as possible" horse life. He's enjoying himself daily in the pasture and I take him to the beach or the woods on a regular basis. Now his sporting career has ended he is concentrating on his other job, being a great Stallion!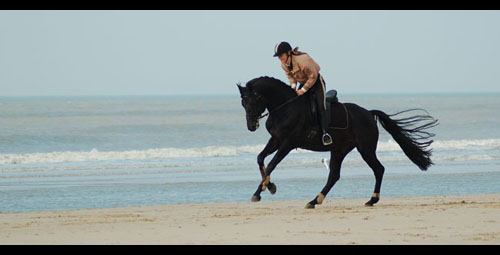 Kas(parow) was born in a small barn in the pretty town of Soest in Nord Rhein Westfalen in Germany in 1995. His mother Kandra had already been successful at several shows and had completed a remarkably good mares-performance test. She had received all the possible regards from the Trakehner Verband and from the German ministry of Agriculture rewarding her with the "Staatspremie" (state premium).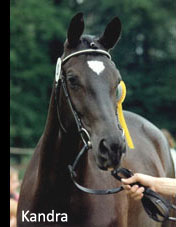 Kandra's father Kostolany has proven to be a Stallion of extraordinary quality. His daughters are great broodmares and his son Gribaldi is a very successful Stallion in Holland.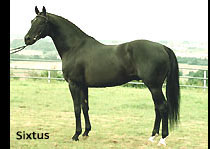 The combination Kandra with Kasparow's father Sixtus turned out to be a successful one. Sixtus had just successfully competed at the world championships for young Show jumpers.
When Kasparow turned 2 years old his training towards the Stallion-approval test started. He came to Neumunster in 1998 with 4 other Sixtus sons out of Sixtus' first foal crop. At the time the commission decided not to send Kasparow on to the next level but to send three of his half brothers.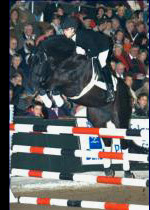 Kasparow went on to work on his sporting career and did that with great success. He was Reserve Champion at the prestigious Bundesturnier and became Champion Sports horse of the Trakehner Verband at the age of 3. As you can imagine people talked about this young horse doing all that. People came from all over to the next Elite Auction in Medingen Germany where Kasparow was to be sold in the spring of the next year.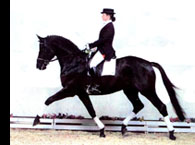 That's how he ended up in Dutch hands. Still not sure that he was really mine I right away started thinking what now? Here is this wonderful horse, what is the best thing for him to do next? I decided to send him to the 100 days test in Neustadt an der Dosse. All approved young Stallions have to go there to stand the ultimate test. He went there being the only one there who was not approved …and won!

In January the next year the Commission decided to approve him after all and Kasparow started his career as an Stallion at Stud. He stood in the North of Germany at a beautiful place called Tasdorf. Beside his breeding he was also busy with his sporting career. He won several Show Jumping and Dressage competitions.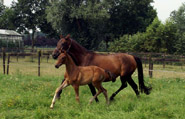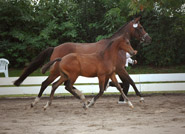 The foals born the year after won several championships in Germany, Denmark and Holland. Other studbooks "discovered" his quality and approved him as well. He is now also approved for the Oldenburger Verband, the Danish Warmblood Association, Rheinlander, Westfalen, and since 2004 for the Dutch breeding Program.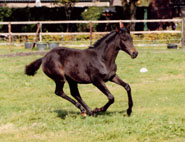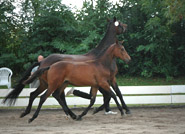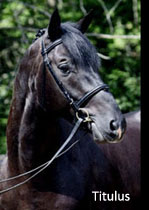 Out of Kasparow's first foal crop a son is already a approved Stallion. He was approved with a 10 for Show jumping ability. His name is Titulus, a black son out of a Timber daughter. After his tests he moved to his new home in Canada where he stands at stud and pursues a Show Jumping career.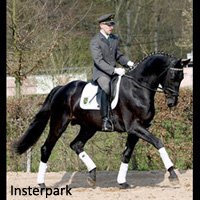 During the Hengstmarkt in Neumunster 2007 Kasparow was the father of reserve champion Insterpark. Again a black son who had very high points for jumping but also excelled in movements and interior. Insterpark was sold to the well known Gestut Panker in Schleswig Holstein to stand at stud.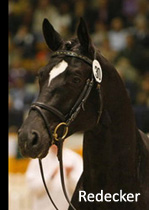 In 2008 yet another son of Kasparow has been approved as stallion. This Redecker will stand at stud in Germany.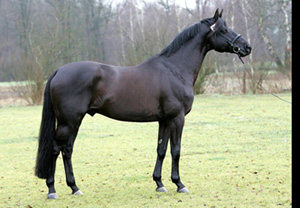 Kasparow in all his beauty is a fine example of the wonderful Trakehner Breed. If after reading all this you want to know more, please contact us.
Always a pleasure talking to people about my true love:
Kasparow