Kasparow's son Redecker (out of a Couleur Furst mare) steps in his father footsteps and won the Championship for 3 year old Stallions at the prestigious Trakehner Bundesturnier in Hannover, Germany.
With the dreamnote of a 8.3 Redecker has made his mark!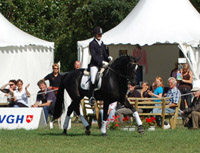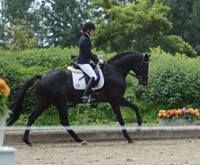 For this test the young horses are judged in a dressage test under their own rider, later they are jugded by guest riders. They ride the horses and give their notes in comparisen with the other competitors. Redecker had very high notes for all gates, for rideability and for temparament. Once again a Kasparow offspring proves the sporty genes.